Global Energy Services offers a value added energy software package where we can provide a computerized dashboard that allows customers to create a baseline of energy usage prior to installation of a lighting retrofit. After installation is complete, the customer can then view energy consumption in real-time using a computer, tablet or cell phone, which GES will provide. This IT software package will allow for the troubleshooting of HVAC issues and the reduction of kilowatts (electric consumption) during peak hours, along with water savings that tie into water conservation measures that GES engineers and designs.
---
— Noveda Technologies —
SAVE. SUSTAIN. STAY AHEAD.
"Noveda Technologies is an innovative leader in real-time, web-based energy and water monitoring. The company's patented software as a service (SaaS) solutions help reduce energy and water usage, optimize performance of renewable energy systems, and reduce the carbon footprint for customers across commercial/retail, industrial, government, education, and utility sectors. Noveda also offers real-time collaboration tools that leverage social media to educate and empower stakeholder communities and make the smart grid a reality today. The company has users in over 33 countries with offices in the US, UK, India and Israel."
"EnergyFlow Monitor tracks your building's energy (electricity, gas, steam,oil) & water use in real-time and at the most granular level – enabling you to adjust your settings based on occupancy patterns. In addition, you will receive immediate notifications when peak demand thresholds are met. 
Studies have consistently shown that the best way to conserve energy and water use is to show people precisely how much they are using. EnergyFlow Monitor data has enabled our customers achieve 15% energy and water savings, on average.
Meaningful graphics, analysis based text/email alerts, detailed reporting and complete data export flexibility give you the answers, not just the details."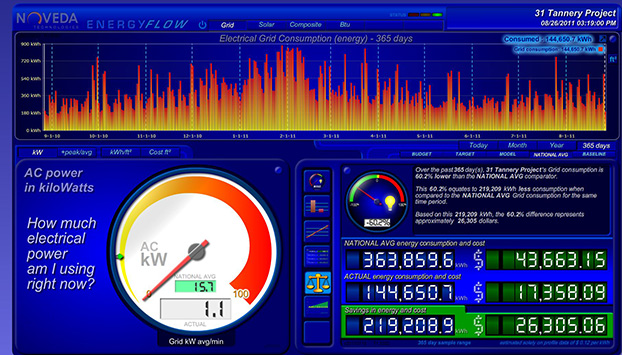 "EnergyFlow CXL (Capex Lens) tracks electricity use on a load-by-load, or alternatively, on a tenant-by-tenant basis. Customers can use the sub-metering with CXL for tenant sub-billing, to track return on capex, and for measurement & verification (M&V) credits for LEED certification."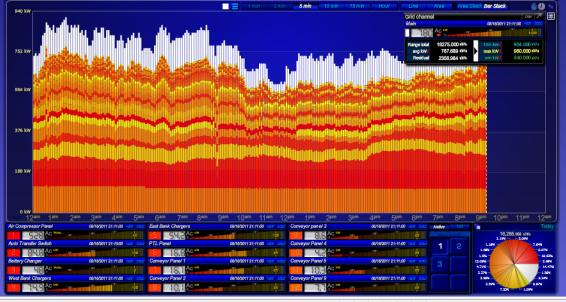 "PortfolioTracker enables customers to monitor energy consumption across multiple sites from a single dashboard. The information is normalized for variables such as square footage to enable prioritizing of energy efficiency investments. In addition, energy consumption across properties can be aggregated to negotiate better pricing."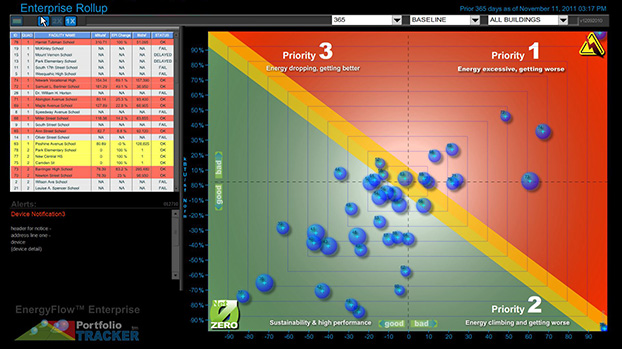 "SunFlow Monitor® compares renewable system's performance against expected, taking weather effects and outside temperature conditions into account. SunFlow Monitor® ensures that solar photovoltaic (PV) or wind energy systems perform at contract specifications and kWh production guarantees. SunFlow Monitor® also produces hourly reports for renewable energy credits (RECs)."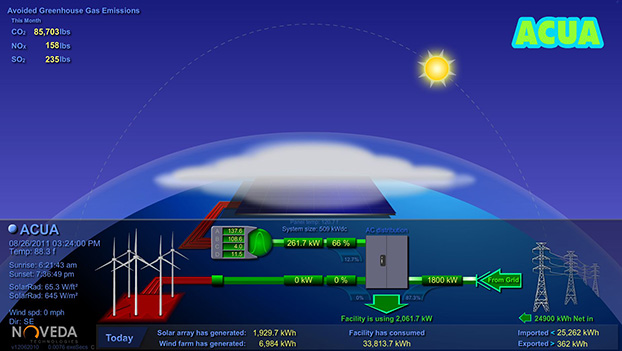 "Noveda Technologies' Portfolio Operator's Portal is a series of highly customizable dashboards that allows you to easily see all of your company's facilities and systems in one common view."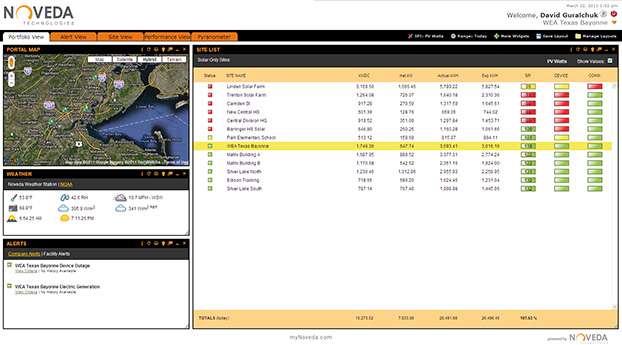 Current Projects
Calverton 95 Building — Jim Shaw — Shaw Group
---
— Lutron Vive —
Simple and scalable lighting control
"Introducing a revolutionary, modular wireless lighting control solution for new and existing commercial buildings. We believe in making every office, school, or university an efficient, comfortable and productive place to work or learn.
Vive wireless solutions are ideally suited for:
  K-12                              Offices                  Colleges/Universities
The flexibility you need to design your building
Wireless simplifies installation and reduces callbacks
Maximize productivity and building performance
All Lutron wireless products utilize Lutron patented Clear Connect wireless technology which operates in an uncongested radio frequency band. The result is ultra-reliable communication and smooth dimming performance with no flicker or delay. Other devices will not interfere with the Lutron lighting control system. Vive wireless solutions offer a multi-strategy approach that accommodates your budget and performance needs now, and for the future of your building.
Monitor
Maximize productivity and building performance
Vive wireless solutions allow you to easily monitor, adjust, and manage your system from any smart device. Easily adjust the lighting control to accommodate building churn, improve occupant comfort, enhanced energy-efficiency. With simple integration, you can connect with other building systems using BACnet protocol at the time of initial installation,or whenever you expand the system. The BACnet/IP protocol is the primary means of integration. BACnet is embedded or native in the Vive hub, which means no external interfaces or gateways are required in order to communicate with other systems.
Adjust
With simple to use, intuitive software, the ability to save energy and improve building performance is at your fingertips.
Energy Reporting
Quickly view and display
energy-usage information to drive decision making and demonstrate savings.
Schedules
Use a 365 day calendar to automatically adjust lights based on time of day, including single day and holiday events.
Load Shed
Easily set lighting reduction levels that automatically respond during peak electricity usage times.
Expand
Scalable solutions – Start small and grow 
Vive wireless solutions offer a completely wireless, multi-strategy approach, that accommodates your budget and performance needs now and for the future of your building.
Single Office Space
Start by adding control in a single space as budgets and occupant schedules allow.
Single Floor

Expand to new areas or an entire floor at any time without reprogramming or replacing equipment.

Multiple Floors

Duplicate the success of one floor across other floors as your business expands or tenants change. Control can be independent on each floor, or linked via Vive wireless hubs.

Entire Building

Vive offers seamless integration to other building management systems to control every light in your building."
Current Projects